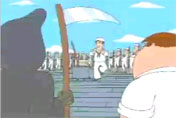 This song is played in episode 306, Death Lives. It features the entire crew of Quagmire's ship singing.

(Quagmire) [spoken] ensin Glen Quagmire. Welcome aboard. Heh heh, you picked a great day to get rescued. We were just about to sing a song about mopping.

[music starts]

(Sailors) [singing] We're mopping the deck, which is navy for floor,
and when we're done mopping, we'll mop it some more.
(Quagmire) OH!
(Sailors) Swab, means mop. Deck, means floor.
(Death's Mother) [spoken] Could you tell me when you're leaving to go back in time, I was talking to a robe on the coat rack for 20 minutes before I realized you weren't in it
(Death) Ma, for god's sake, leave me alone. I'm working
(Death's Mother) Don't yell at your mother. If you yell at your mother, a hen will lay eggs in your tummy
(Peter) Wow, brilliantly choreographed.
(Quagmire) Well, that's your tax dollars at work. Say, why don't you join us and see the world?